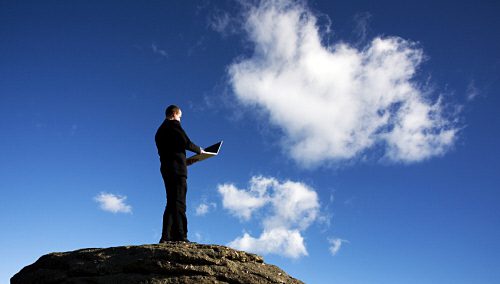 Cloud computing has been gaining in popularity and has definite value. You may have heard a lot of hype about the magical ease of using cloud services. Or you might have heard the concerns about security and privacy. After all, something that good can't be real, right? From a consumer perspective, there is much confusion and many misconceptions about it. We've highlighted some of the most common myths.
5 Myths About Cloud Computing
Myth #1: It's just one big cloud.
The Cloud is not one thing and there is no one single computer infrastructure that handles everyone's data. Amazon Web Services continues to lead the public cloud services with 57 percent of respondents using it, according to the fifth annual State of the Cloud Survey conducted by RightScale in January 2016. Although companies like Amazon are constantly expanding their infrastructure to handle data, there are thousands of entities with computing infrastructure to offer cloud services just in the United States alone. Each one offers its own characteristic applications or services. Therefore, when you consider using the Cloud, you want to consider a strategy that aligns your business goals with the right application or service for your needs.
Myth #2: One day all of our data will be in a public cloud.
Cloud computing is not all or nothing. It is a technology and like all technology, it is always being adapted. The real beauty of cloud computing is taking a bunch of commodity hardware, virtualizing it, and pooling resources to keep costs down for everyone. But there will likely always be organizations that will continue to use alternatives to the Cloud because of privacy and government snooping concerns. There are also other resources for storing data. Drives and servers are adapting to handle larger storage capacities. Many small to medium-sized companies recognize the value of using internal servers with remote access for many of their files to offset the pay-per-use cloud services.
Myth #3: The Cloud is less expensive.
While many companies can save on IT expenses for storing, managing, and maintaining their IT in the Cloud, it is not the same for everyone. In fact, several companies report that cost management is a growing concern for Cloud services. It fits best where value is placed on flexibility and companies have the ability to consume and pay for only what is needed when it is needed. Remember that these services are based on pay-per-use fees. Some organizations are finding it more cost effective to set up their own infrastructure with remotely managed services while others might find it more cost effective to use the Cloud for select applications or services. And it isn't always about money. Gartner's 2014 CIO survey shows that cost savings account for only 14% of the reasons for organizations' use of the public cloud. Some of the other reasons companies migrate to it are due to agility, security, and access.
Myth #4: The Cloud is less secure.
The Identity Theft Resource Center defines a data security breach as "an incident in which an individual name plus a Social Security, driver's license number, medical record or financial record (credit/debit cards included) is potentially put at risk because of exposure." The truth is the Cloud is attractive and security will continue to be a concern. But historically, there have been very few breaches in public clouds compared to onsite data centers. The main reason is that many onsite systems are managed by in-house IT people who are not necessarily security experts. With the growing concern, Cloud service providers invest huge amounts of money into security to reduce the risk. Many companies also recognize that security is not only about breaches. The Cloud helps in securing data in case of a natural disaster, theft, and any number of other reasons. That doesn't mean you should assume Cloud services are secure. They need to demonstrate their abilities to you.
Myth #5: Someone else has my IT headaches.
The Cloud provides a safe place to secure your data in case of a hardware failure or natural disaster. But there are still potential problems such as human errors that can cause you headaches. You can further reduce your IT headaches by having a company such as Boost IT help manage and monitor your IT with Cloud services. They will take over the responsibility of keeping up with the software and hardware upgrades and more. This can certainly help your day-to-day workload go smoother.
While many of the myths remain, it's important to realize that the Cloud is not a fix-all or an all-or-nothing approach. It can change workflows and in most cases help with productivity. But there is an adjustment period and employees require training. You want to do your own homework to see if migrating to the Cloud is right for you. Boost IT can help you look at cloud decisions on a workload-by-workload basis. Contact us at 404-865-1289 or info@boostitco.com.