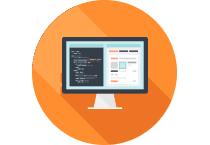 Our software update management system monitors your systems around the clock. We update your software in the background, without interrupting your employees.
Your software needs to stay updated to protect your data from cyberattacks and malware. Software updates also provide new features and can improve performance, which we monitor with our performance monitoring system.
"Software updates, even if they are set to automatically install, regularly fail."

"Some software updates from Microsoft actually cause problems with your Industry-specific line of business software."
We have solved these problems.  We monitor your software, keep it updated for you, and can provide software update reports when requested.
Softwares that are critical to keeping updated are:
Windows Security Updates
Mac OS X Software Updates
Industry-specific Line-of-Business Software
Adobe Acrobat
Adobe Reader
Java
Adobe Flash Player
Internet Browsers
Failure to keep your software updated will lead to slow internet, and slow systems, and keep your business from staying competitive.
Want to automate your software update management to increase security and productivity?
Fill out a 2 minute IT Self-Assessment online
or
Contact Us to set up an Introductory Call to talk about your software management needs