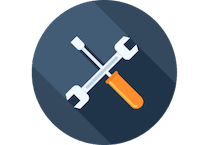 Here's how your remote workforce can be productive:
Remote Access
Maintain remote access to your computers and/or servers. Most, if not all of our managed services clients, are allowed a 1:1 remote access connection to your work computer should the need arise. This means that Boost IT can quickly enable remote access so you can remotely connect to your office computer from your home computer.
Payments
Make sure you have the ability to pay bills and receive payments. The last thing you want is to have your Internet service shut off while being forced to work away from your office and remotely connect.
Phones
Ensure your phone system can be routed or accessed while out of the office. If your office is shut down, can you route your main phone number or phones to a different phone number? If you are unsure, it might be time to give us a call and learn about a Cloud Business Phone System.
Backups
Validate that you have good backups and that backups will continue to run in your absence. If you are using our FastRecovery BDR system this is no worries for you. We backup our client's entire servers daily both on-site at your primary location and off-site to secure IBM data centers. If you are not a client and your backups require you to manually rotate tapes or external drives you should consider a different backup solution.
File Sharing
RocketSync, our cloud file sync, share and backup system that is used by our real estate development, engineering, design and architecture clients, will save hundreds of hours per year if your team drives back to the office or uses VPN to copy files to your server. It's an awesome solution whether you have a server or not. Our clients love it!
Business Software
Software such as Electronic Medical Records (EMR), Enterprise Resource Planning (ERP), Accounting, Customer Relationship Management (CRM) and any other enterprise software should be made accessible from outside of your office. If you host applications internally, but do not have full access externally to these applications we can help.
Internet Access
Redundant Internet connections. It has always been our recommendation that our clients utilize redundant Internet connections to ensure remote access. If your inability to access your office systems from outside the office will highly impact your business operations, then we strongly advise the use of dual internet connections. An example is using two different providers such as Comcast Business, AT&T or CenturyLink if in the Atlanta area.
Mobile Devices
Ensure that you have enough mobile devices for your staff to maintain secure, reliable, and supportable access to your office resources. Although your employees likely have personal home computers, it is not advisable to have them use those systems to connect directly to your office systems without enabling strong security protections. If business continuity is critical for your organization, it is advisable to keep a few extra laptops on hand so that your employees can use them in the event that working from home becomes an unplanned reality.
Faxing
If you are still using analog physical fax machines it might be a good time to either switch to electronic faxing or to route your faxes to a local or cloud file share where they can be accessed from outside of the office. Faxing to paper is so 1999!
And if you decide to work from Home, we offer multiple support options:
chat
phone
e-mail
remote control, within minutes
onsite
Chat
Chat is available around the clock. Once you become a client, we put a "Help Desk Chat" icon on your computer so you can reach us quickly.  Chat is helpful because you may want to start a remote control support session to get help while you are on the phone with one of your customers.  Talk about efficiency!
Phone
We answer the phone in under 30 seconds 24 x7x365.
And you'll NEVER have to leave a voicemail for a callback.  What other IT companies can promise that?
Go ahead…call us now…see how fast we answer the phone.
Call our number at the top of the screen and press 1 for our Help Desk.
E-mail
This is not the fastest way to get support, but sometimes you just want to send a message and let us know of an upcoming change or project. We'll answer e-mails as soon as we finish what we're doing.
Remote Control
Remote control support can be started, with your approval, through chat or phone support. We can view your Mac, PC or server screen & share mouse control to find a resolution even faster.
Onsite
A highly-trained engineer with the right tools comes onsite once a month, included. Our clients love it, and no other Managed IT company does it. We get to know your business, your employees and deal with the details that many managers or C-level execs shouldn't have to deal with.