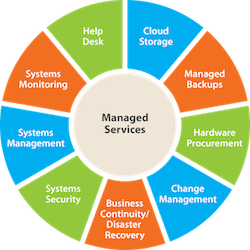 Our proven process is something we've been perfecting for over two decades.
If you've been in business long, you already know that great people and great processes are the key to great results.
5 stages of our proven process
We always do an ASSESSMENT.  You don't like surprises, and neither do we, because surprises cost you time and money.
Your STABILIZE phase will vary depending on how well your network has been managed, and how many "band-aids" have been used in the past.
In the MANAGE phase, your stakeholders and employees begin to redirect their energy to the things they always wanted to do but couldn't, like having more time with family and friends, and being more productive and less stressed at work.
The GROW phase will be focused on decreasing some costs, consolidating services, streamlining workflows, and increasing your cash flow so that you can invest in your priorities.
The INNOVATE phase will marry your dreams for the future with your vision, and will vary based on your needs and vision for your company.
ASSESS
We run deep scan network diagnostics inside and out and generate detailed reports so we both know what's really going on. Many companies use this as a scare tactic tool, but we send a network engineer and no salespeople, and we aren't pushing you to sign a contract.
STABILIZE
Based on what data the assessment returns, we recommend and implement the changes to remove your headaches and point the ship in the right direction.
MANAGE
We work our magic deploying our network monitoring and management tools on your network to keep us informed so we can act instead of react. Technology will fade into the backgound and you will come to rely on it just like a light switch. You start to have more time for hobbies or with family and friends at this point.
GROW
The growth phase is customized based on what your ideas of growth are.  Grow revenue, profit, number of employees, contractors, and decrease costs and streamline workflows.
INNOVATE
Our partnership with you has gelled and the foundation we set has solidified.  If desired, we consult with your stakeholders and thought leaders to design a technology plan to take your business to the next level.
Learn more about how we help clients in your industry type.
Read Our Case Studies