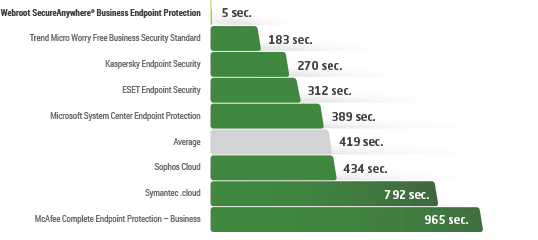 Cloud-Based Anti-Virus Benefits
So which type of anti-virus software is best for your network? Not surprisingly, there's no shortage of available solutions in today's market – and there are some tried and trusted tools out there that have worked well for years.
But as is the case with many software solutions, it's important to look at the impact the cloud is having on antivirus and endpoint protection technology. These offerings have come quite a long way since their inception, and today's cloud-based anti-virus solutions are powerful enough to stand on their own in addition to complementing traditional security software.
Here's a quick look at four big benefits of cloud-based AV:
A Lighter Footprint
With a cloud-based anti-virus solution, the majority of the work is of course happening in the cloud – so very few resources are required on protected machines. The installation file is much smaller and easier to deploy than in traditional AV software – and data that's traditionally stored locally (reports, history and log files) now lives in the cloud. Scans are also often faster, and shouldn't negatively impact system performance like some older, "heavier" AV tools will.
Set It and Forget It
When your anti-virus solution lives in the cloud, you don't have to worry about updating it – and you won't have to deal with definition updates or machine reboots. This not only saves time, but it'll help you ensure you're receiving the latest updates as soon as they become available; this is particularly helpful against zero-hour threats or brand new malware that legacy AV solutions aren't protected against yet.
Related: How to Avoid Point-Of-Sale (POS) Malware Attacks
Simplified Management
A good Managed IT provider has the ability to centrally manage your anti-virus solution for you and make adjustments to multiple machines (and across multiple client sites) from one unified dashboard. It can really help you save some time – and being able to remotely access your AV and make changes on-the-go certainly has its perks.
Conflict Free
Because cloud-based solutions don't live on a local machine in the sense that traditional AV does, cloud security can be deployed alongside existing security software without any conflict or interference. This can help provide an added layer of protection onto another program.
Antivirus is something that's critical to your portfolio. It's not a nice-to-have technology – it's a must-have. You need peace of mind that you and you're clients are protected, and you need a solution that's right for your business. Take the time to identify what your biggest security needs are, and then call us to get Webroot and Malwarebytes automatically and centrally managed for your business.