Experienced IT strategy pros are hard to find. Boost IT's virtual Chief Information Officer (vCIO) services save the time and cost of recruiting, hiring, and onboarding a CIO; while still managing your tech stack to increase profits and drive growth.
Why do you need a vCIO?
Responsible for company technology strategy, CIOs are senior technology executives who lead the IT department. In the United States, the average CIO salary is $157,934. While large companies usually have a CIO, most small- to medium businesses (SMBs) can't afford them, yet require the expertise and experience of a CIO.
That's where Boost IT comes in. We provide CIO-level results for your company without you having to invest a monthly C-suite level salary. You'll also have access to our robust IT knowledge and resources.
With your vCIO, you'll have an opportunity to build a long-term relationship with us, which is critical to boosting your operations and revenue.
A vCIO also gives you a competitive edge over other companies in your industry. As technology evolves, our vCIO can help you multiply those advantages.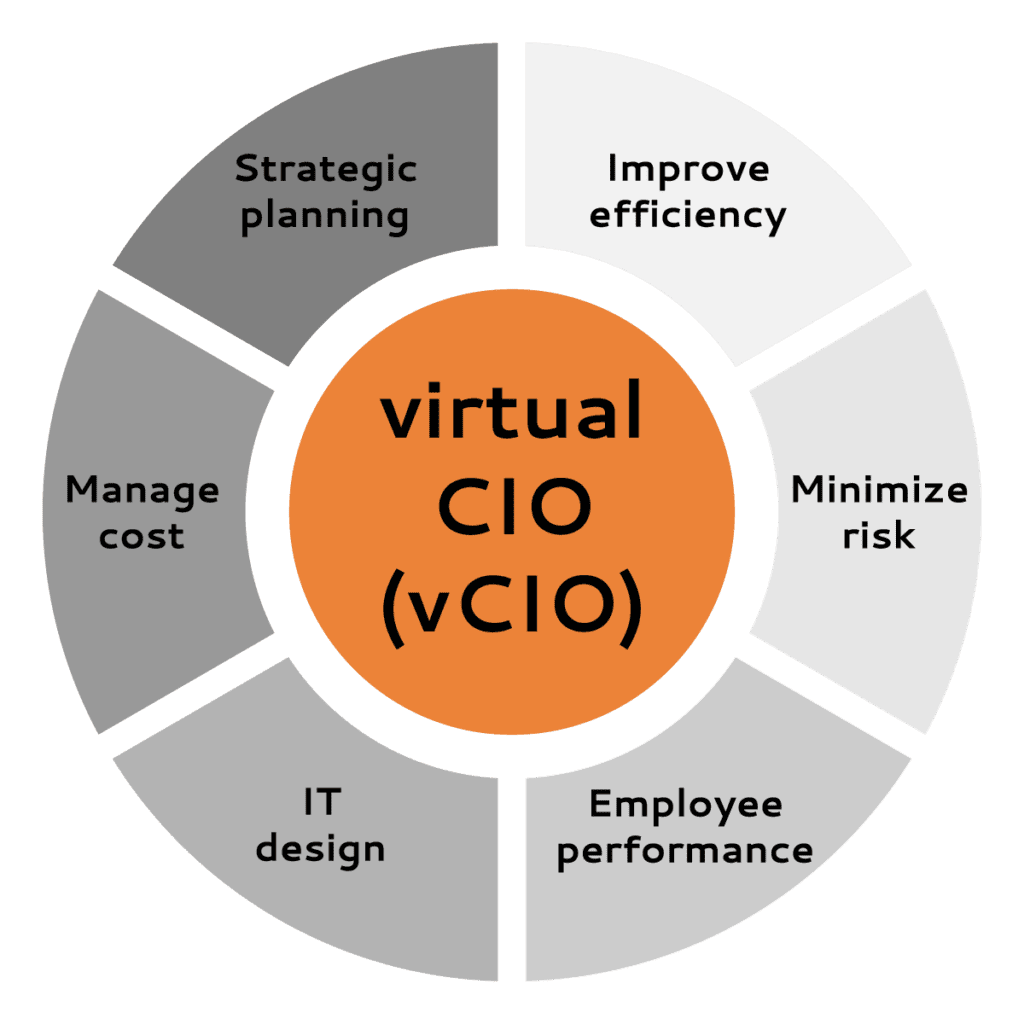 The virtual CIO (vCIO) is the chief driver of all IT direction and initiatives. The responsibilities of a vCIO include:
Strategic IT direction.
Setting an IT budget.
Implementing new IT systems.
Reviewing and reporting on the state of the IT department.
Boost IT provides virtual CIO services to companies in the Atlanta, GA area without the cost of a full-time employee. Our services are affordable, as we know how to optimize business processes and leverage efficiencies. We've been in the IT industry for decades. Our IT professionals have amassed great experience and exposure working in a variety of complex IT scenarios.
The virtual CIO process
After you sign an agreement with us and are paired with your vCIO, we don't dive right in and make changes. We plan.
First we gather the detailed technology alignment information we need to make strong recommendations. Our first priority is gathering the detailed technology alignment information needed to make strong recommendations. We need the strategic background information about your environment.
We take action only when fully understanding your needs and the current state of your technology. When the background work is done, vCIOs spend more time on providing strategic direction than on technology alignment.
Employing us to manage your IT, where you'll be assigned a dedicated client success manager, we'll have access to your IT information gives us hands-on control of your system alignments. The client success manager's sole responsibility is to align your technology against the industry best practices. This process is performed on a ongoing basis, and the alignment results are given to the vCIO as the basis for building your IT roadmap.
As we invest the strategic time into better understanding your company and your needs, we'll build a strong foundation for a long-term partnership. And with the help of a client success manager, our vCIO services increase in value and effectiveness.
With Boost IT's expert virtual CIO managing IT, you can put more focus on your business.
We are ready for your call, email, or message.
Reach out to us today and tell us how we can help your organization succeed.