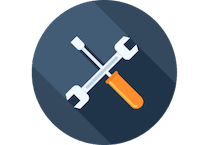 We offer multiple IT support options:
chat
phone
e-mail
remote control, within minutes
onsite
Chat
Chat is available around the clock. Once you become a client, we put a "Help Desk Chat" icon on your computer so you can reach us quickly.  Chat is helpful because you may want to start a remote control support session to get help while you are on the phone with one of your customers.  Talk about efficiency!
Phone
We answer the phone in under 30 seconds 24 x7x365.
And you'll NEVER have to leave a voicemail for a callback.  What other IT companies can promise that?
Go ahead…call us now…see how fast we answer the phone.
Call our number at the top of the screen and press 1 for our Help Desk.
E-mail
This is not the fastest way to get support, but sometimes you just want to send a message and let us know of an upcoming change or project. We'll answer e-mails as soon as we finish what we're doing.
Remote Control
Remote control support can be started, with your approval, through chat or phone support. We can view your Mac, PC or server screen & share mouse control to find a resolution even faster.
Onsite
A highly-trained engineer with the right tools comes onsite once a month, included. Our clients love it, and no other Managed IT company does it. We get to know your business, your employees and deal with the details that many managers or C-level execs shouldn't have to deal with.
IT Support Options Summary
Our highly-trained and friendly technicians are available within 30 seconds 24x7x365 to help you via chat and phone.
We'll respond to e-mails usually within 4 hours.
We provide remote control support with your approval.
We can come onsite for installation, repair, and bigger projects.
Contact us via our contact page or call us at the number on the top of our web site.