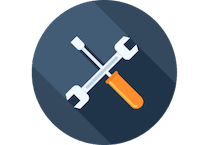 We offer chat, phone and e-mail IT support options, and can remote in to help you within seconds. No leaving voicemails for a callback.
Go ahead…see how fast we answer the phone. Call our number at the top of the screen and press 1 for our Help Desk.
A highly-trained engineer with the right tools comes onsite once a month, included. Our clients love it, and no other Managed IT company does it. We get to know your business, your employees and deal with the details that many managers or C-level execs shouldn't have to deal with.
Our technicians are available around the clock to help you remotely via chat, e-mail, and phone.
Onsite repair and troubleshooting is available when you need us.